Who Are We?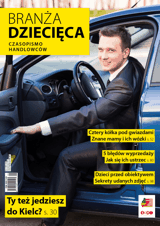 "Branza Dziecieca" is a Polish B2B magazine meant for toys and baby care products retailers and wholesalers, both traditional and web-based. We are the official media partner of Polish Toy Association, the only trade organization for producers, importers and distributors of toys and nursery products in Poland. We are also a member of Baby Care Magazines International, the association of European journals that significantly publish information on the baby care products and children clothing industry and market.
Important Facts
Circulation: 4000
Size: A4 (210 x 297 mm)
Publishing cycle: 7 issues per year
Distribution:
— paid subscriptions
— Empik shops
— trade fairs and events
— free promotional send outs
Readership:
— more than 90% of the readers are the owners of shops and wholesalers
— one copy is read by approx. 4 people
— in 51% of cases it goes to the managers, 53% to salespersons
Our Topics
— toys and games
— prams and child car seats
— products & accessories for infants
— children's furniture and decor
— kids clothing and shoes
The Content
— selling tips
— business ideas
— legal regulations
— e-commerce
— demography
— bestsellers
— who is who
— decorator's advice
— trade events reports
— market reviews
— unsafe products alerts
— consumer psychology
— kids marketing
Information For Advertisers
Why Advertise With Us?
Branza Dziecieca is a business-to-business publication distributed to marketing decision-makers and product-buyers across children's articles industry. Their orders are normally larger and more frequent than those of individual clients.
Our Target Audience
Over 90% of our readership consists of retailers and wholesalers. More than one person normally reads a copy. 
51% of copies reaches the managers and 53% the sales staff.
7 Reasons to Advertise
Attractive Target. For producers, importers and distributors, every contractor is a new sales channel. "Branża Dziecięca" will make your contacts with wholesalers and retailers easier.
Direct Impact. The prospect must see your offer to buy your products. So every issue of our magazine is sent contrywide, directly to shops and warehouses offering toys and baby products.
Good Company. The Polish Toy Association has chosen "Branża Dziecięca" as its official media partner. It is the testimony from the biggest and most respected companies on Polish market.
Loyal Readers. The list of paid subscribers of "Branża Dziecięca" is longer and longer with every issue.  That proves we are reliable for our readers – and a good choice for your advertisement.
Regular Contacts. Repeat advertising builds your brand's awareness. "Branża Dziecięca" is a bimonthly, so you can precisely plan your campaigns to get the best results.
Appropriate Circulation. Our circulation (4000 copies) is suitable to the number of shops and warehouses offering toys and baby products in Poland.
Window to the World. As a member of Baby Care Magazines International, we provide foreign professional journalists with informations about Polish toy and baby care market.
Prices
Full page ad costs 1030 EUR. 1/2 page is 800 EUR. Non-EU customers should add 23% VAT to the price rates. Ad design (up to 2 corrections) is free of charge. Inserts and other non-standard ads based on separate calculations.
Technical Requirements
Ad size: as ordered plus 3 mm bleed around all edges
Graphic files: JPG, PDF, PSD or TIFF (CMYK, 300 dpi). We don't accept Corel files, sorry.
Vector graphics must be in Adobe Illustrator files. Please convert all fonts to curves.
When in doubt, call: +48 509 824 248.
Advertising Calendar

| Issue | Order by | Ready Adverts | Release date | Notes |
| --- | --- | --- | --- | --- |
| 1/2021 | 20.11.2020 | 27.11.2020 | 13.01.2021 | Available at Spielwarenmesse in Nuremberg |
| 2/2021 | 15.01.2021 | 22.01.2021 | 17.02.2021 | Distributed at Kids'Time in Kielce |
| 3/2021 | 19.03.2021 | 26.03.2021 | 28.04.2021 | Promote your toys before Children's Day |
| 4/2021 | 21.05.2021 | 28.05.2021 | 30.06.2021 | Last minute for Back to School |
| 5/2021 | 23.07.2021 | 30.07.2021 | 01.09.2021 | Available at Kind+Jugend in Cologne |
| 6/2021 | 03.09.2021 | 10.09.2021 | 13.10.2021 | Extra: Hottest Toys for Christmas |
| 7/2021 | 15.10.2021 | 22.10.2021 | 24.11.2021 | The last edition before Christmas |
| 1/2022 | 26.11.2021 | 03.12.2021 | 05.01.2022 | Distributed at Spielwarenmesse in Nuremberg |
| 2/2022 | 14.01.2022 | 21.01.2022 | 16.02.2022 | Distributed at Kids'Time in Kielce |
International Advertising Contact Person
Agnieszka Wyszomirska
tel. +48 509 824 248
a.wyszomirska@branzadziecieca.pl